The Ultimate Prize By Scott Lloyd
It was May when I made the first trip and it was everything I had hoped and expected it to be. It was almost magical, a euphoric feeling like no other.
Growing up in the northwest, I could only ever dream of one day catching carp that I admired so deeply. The Black Mirror, Mary, Heather, The Burghfield Common and so on, were the ultimate's in carp angling. The carp were unique and the challenge of catching had its own limitations.
As my angling advanced to the level of feeling like these sorts of carp were achievable, nearly all had faded away. All had gone but one, in my eyes one of the last true history fish to be over 50lb, the Burghfield common. Probably looking at it, one of the hardest to catch too, with so few documented captures and the logistic of the lake being so large and wild.
The lake is 96-acres in size and holds around 120 carp. It is almost split in to two sections. One end is a large expanse on untapped and untouchable water. The other is a maze of bays, channels, islands and snags. There are 26 islands, not to mention the amount of bank space, making new winds almost irrelevant. A fresh southerly could hit dozens of areas, which made tracking down the fish even harder.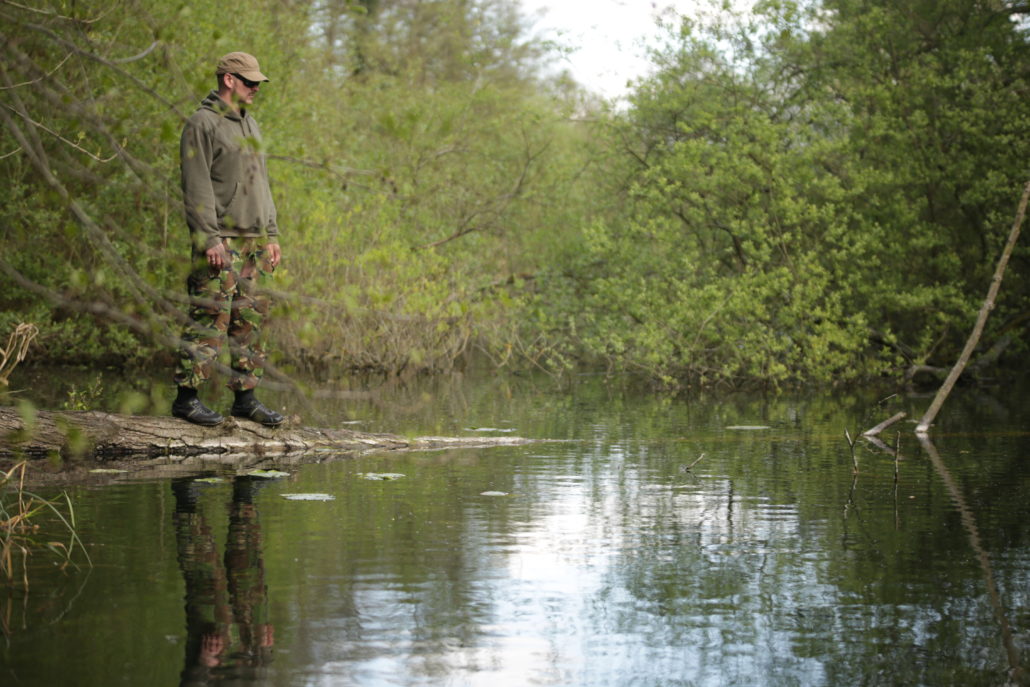 I had been on the list, with the idea of moving on from Linch if I was lucky enough to catch Bitemark. In April 2016, I did it, which coincided with me getting my Burghfield ticket. It was on, I was going there and it was all so quick and sudden.
Although daunting, I knew the lake was going to be a bit of me. The rugged nature of the place, the large surrounding trees were to be my playground for watching carp and everything I loved about fishing was there. It was May when I made the first trip and it was everything I had hoped and expected it to be.
It was almost magical, a euphoric feeling like no other. The fact that she was swimming in that water that I was gazing over, blew me away. Tree climbing is a big thing for me and I can get to heights that others wont.
(Being able to observe fish from the tree was a huge advantage)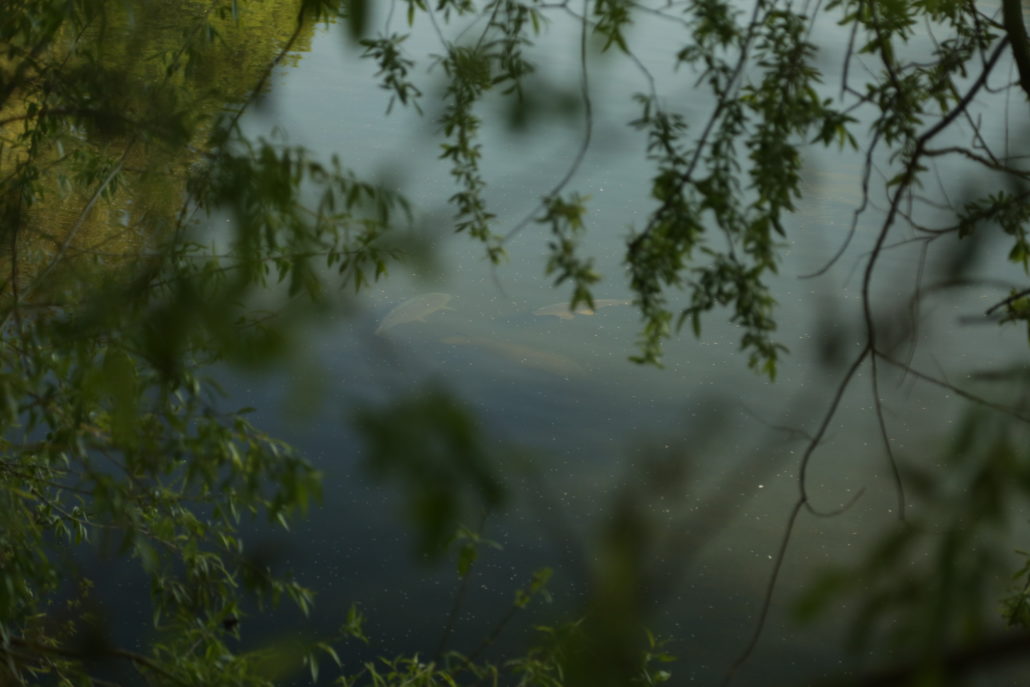 The amount I could see was incredible and I found fish on that first day. It took a good 4 hours to do a good lap, taking note of the good trees as I made my way round. I quickly developed a passionate hate for brambles. The place was overgrown with them and being eager to check every nook and cranny, they shredded me to bits.
I caught a small mirror on my second session. I saw it feeding in the edge on a little prepped up spot. I remember catching it though and questioning what it was that I was doing. It sounded harsh, but I was here for the common and I wasn't going to do it catching the others when I couldn't see her there.
(A 42lb mirror, caught after changing the end tackle over)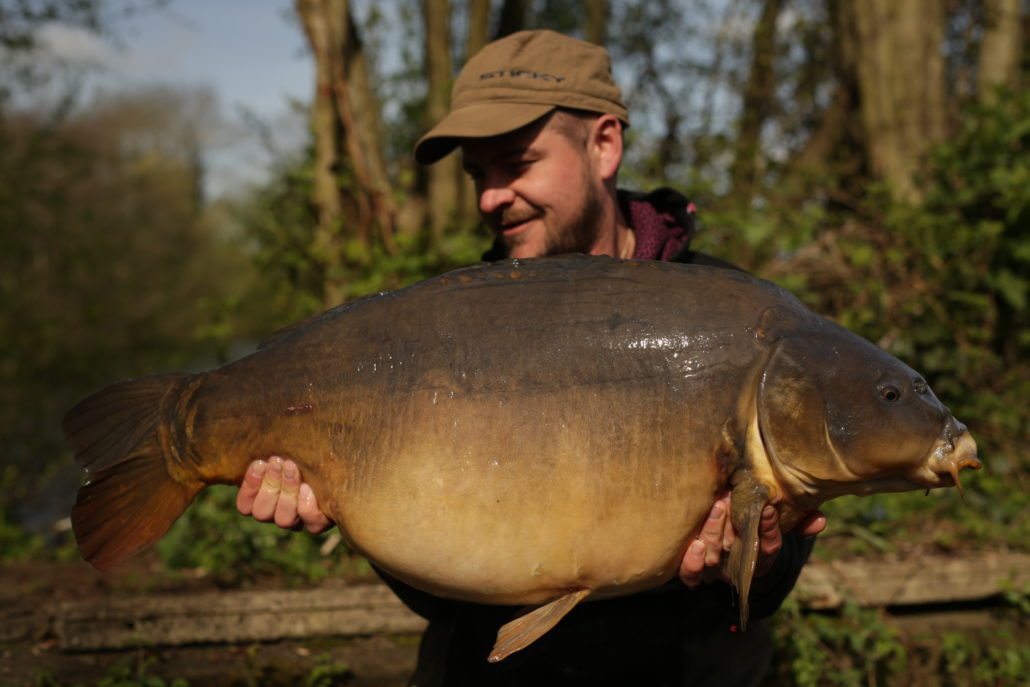 I changed my mind-set; I was off the mark and now common hunting, which was it. I passed up numerous opportunities to catch good fish close in. We are talking 40lb mirrors, which was hard to do. But the time it would have taken me to try and catch those fish, was time lost searching for the common.
I spent most of my time up the trees and baiting areas. Each day was hard work, lots of legwork and climbing. I was exhausted come evening time and would often crash and collapse, ready to get up early and start again. It really brought that hunter instinct out in me, which I loved.
I could have sat there and baited out in the pond and hoped she came, but that wasn't my strength. Besides, there have been so many good anglers that have done that in the past and failed. I wanted and needed to play to my strengths and try to find her.
I began to see her a fair bit. I didn't see her feed; it was often just cruising round. I clocked her a number of times chilling out or swimming with a small common. I called it the small mouth, as it looked like it had a slight deformity.
One day, I climbed the tree in one of the back bays and saw a group of fish out by a weedbed. I stared out, looking for her, but she wasn't there. It was coming up to spawning time and I knew she wouldn't be far, so stayed up high and waited for a chance to see her. Then, out of nowhere, the un-missable submarine shape came in to view, it was her. I watched for half an hour, clocking the patrol route and studied her every move. Armed with the small twisty mouth, she drifted aimlessly around this weed bed around 30 yards out.
She began to drift in close and came right underneath me. I decided that this was my chance, so scrambled down the tree and got a rig in position. I waded out and lowered the rig in, standing on the lead and leader to pin everything down. I got back up the tree and waited.
She came back in but quickly turned, flared her gills and sped off. Something was wrong, she had clocked danger, but I couldn't see what it would be, it had to be the hook bait.
She drifted off, so I cast a couple of choddies out towards the plateau, which the fish were gathering round. One was on a bright, the other a straight Krill pop-up. I got back up the tree and waited, with me heart pulsating like nothing that I had felt before. I could see the hook baits and in the distance, the common was still there.
I watched as she drifted over the plateau. Her back and tail would breach the surface over the shallow water, before she tilted down towards the hook bait. My heart stopped, she shook her head and I thought that was it! I stood still, ready to jump from the tree, but I heard nothing. She bolted off, but with no sound of an alarm, I had been done.
I calmed down and decided to get the rod back out and hope she would come back. Nothing happened through the night and I woke the next morning to see the odd bit of fizzing out there. I got up the tree and could see a few fish, including the common. I couldn't believe she was still in the area, after being freaked out and presumably feeling the hook, I thought she would be gone.
I sat back and prayed for her to give me a break. It was frying my brain; I couldn't help but ring friends and try to keep it all together. Then, the bobbin smashed the blank and the tip pulled round. I held on for deer life as this fish totally flat rodded me. I kept my cool and hoped my hook would hold firm, when the rod sprung back.
I was gutted, totally devastated and although I didn't see the fish, I knew it was her. I didn't see her again and the fish were still in the area, it had to be her. Only a couple of weeks later and the fish spawned. I gave them three weeks before returning to the nettle infested jungle.
It was hard work in the summer and I hardly fished through the autumn. It had totally beaten me. My body was in bits, covered in scars and scrapes. I had caught two, but lost 6. The buoys had chains underwater, hidden from sight but deadly once the line came in to contact with them.
The season had beaten me and I took the winter off, in preparation for the spring. I had it in my mind how I had to fish. The carp were spending time out in the pond in the main body of water.
Bait boats were allowed and although I never saw myself using one, it was going to be a must.
(Scott shared the moment before the catch with his best friends and brother)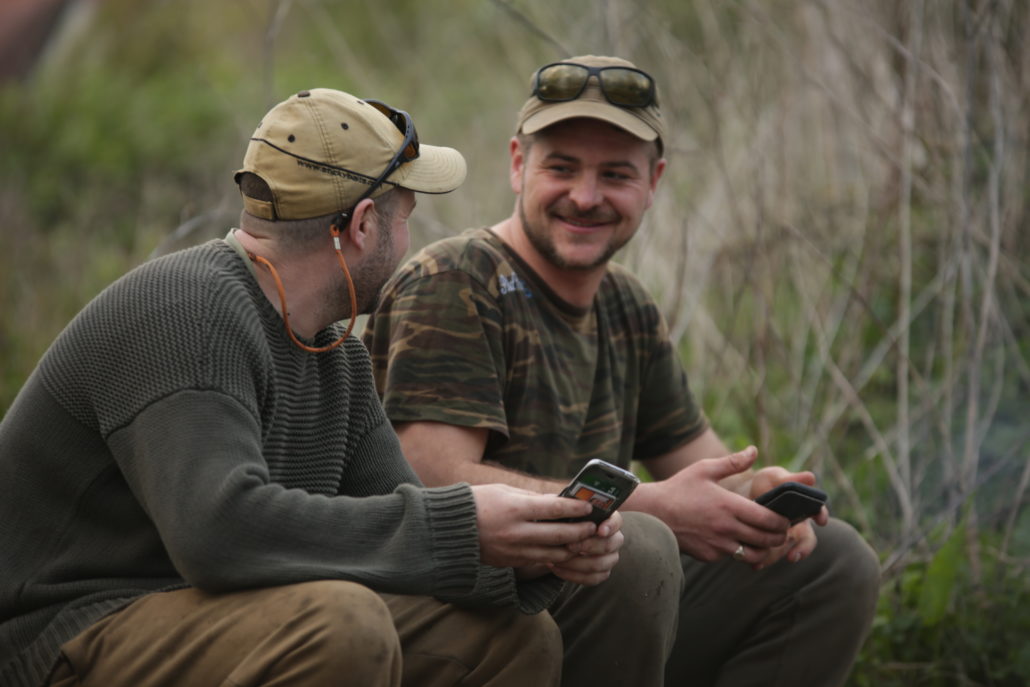 It was hard work in the summer and I hardly fished through the autumn. It had totally beaten me. My body was in bits, covered in scars and scrapes. I had caught two, but lost 6. The buoys had chains underwater, hidden from sight but deadly once the line came in to contact with them.
I had done the odd trip in the winter, but to no avail. It wasn't until the Big One show in April, that I had a good bit of time booked off work. It was really hot that weekend; over 26 Celsius (79 Fahrenheit) degrees and I just had to get to the lake. I left early on the Sunday, knowing where I needed to be and what time I had to get there to get it.
I arrived in the compound swim and it was free. The fish had been showing in the area for the while and I did see the common in that zone showing last year.
I decided to fish two rods on the drop off, on the side of the island in 16ft of water. It sloped right down from 6ft, so the ledge is extremely steep.
One rod was on a Manilla wafter, the other on a balanced nut. The Crayfish were a nightmare, so wanted to make sure I would have at least one hook bait fishing. The wafters were tough, so I knew they would withstand a fair bit of grief should the Crays do me. I dropped just a handful of bait in each hopper, with the a mix of Manilla and chopped nuts, with plenty of liquids to go with it.
I woke the next morning and saw half a dozen shows over the area. It looked bang on for a bite, when the rod pulled up. I made contact with the fish, before it all falling slack after just a few seconds. I couldn't believe it, the ledge had cut the hooklink.
I had another bite half an hour later, once again coming off, this time the fluorocarbon leader parting. I couldn't believe what was going on, my mind was fried and I found myself on suicide watch. I re spooled the reels with 20lb Subraid, 8ft leadcore leaders and upped the hooklink to 25lb.
The changes had worked and I managed a nice 24lb mirror the following morning. I got the rod back out and I felt so much better. The fish were still sporadically showing and around 10am, the other rod was away. It felt a bigger fish and it was quite a struggle making sure I got the rod high and steered the fish away from the islands.
Thankfully, it all went to plan and I slid the net under a large, leathery mirror. She went over 42lb, which was such a good feeling. The problem had been solved and I had caught my first Burghfield 40.
The following morning was quiet and I didn't see a thing. Although this didn't look great for bites, I thought that if there was ever a chance of the common, this would be it. The moon was prime and due to shift at 1pm, I was staying put. My brother told me that the fish had moved, but this was me, I was sitting it out for the off chance that the fish was there.
I knew she wasn't a pack fish, so didn't want to move with them. I was sure she was out in the pond, so stayed put and prayed. Around 12pm the left hander was away. It felt a small one, with the quick head shakes. When it surfaced, I realised it was the small, twisty mouth common. It was a gnarly old thing and the first thing I thought was that she is out there.
I slipped the fish in the retainer and rang my mum back. As it rang, the other rod smashed up tight. I threw the phone on the bed and could hear her voice. I shouted for her to ring Baz to come round and concentrated on the fish. This thing was ridiculous, stripping line like nothing I had felt before. The power was simply mind-blowing, like a steam train on steroids.
Thankfully she went out in to the pond, stripping a good 80 yards of line off me. Then, I turned it, before it kited off to the left behind the island. The line angle was awful and she had gone round the island. I could feel every branch the braid touched, flicking off all sorts that I couldn't see. I thought that was it, there was no way back from here. Then, the line started moving right and she was back in open water. If that was mono, it would have been game over for sure.
The speed of the fish was insane; I couldn't keep up with it. At times, it crossed my mind that I must be hooked in to a catfish or something. It was heading towards the jetty to my right and I couldn't keep up with it.
My friend Neil came in to the swim and I just said, I think it's her mate. He respectfully kept quiet, offered a hand and stayed out the way. There is nothing worse than someone giving you a running commentary, but thankfully, Neil is a good lad and knew how I felt.
I saw it breach the surface, already knowing in the back of my mind it was her. Sure enough, it was, the biggest and most prestigious carp in the country. My obsession, love and desires rolling around on the surface. I waded out a little more and had the net ready. When she was beaten, I gave it one big burst of energy to shuffle her in the net. I could barely do it; the carp was so long it was such a struggle. Once she was in, I dropped the rod and couldn't contain my emotions.
It was her, looking absolutely huge. I couldn't believe it and needed to calm down. My body was in a mess; a trembling wreck and I had to get a plan together. Neil passed me the sling and not wanting to risk losing her, I unhooked her in the edge, placed the sling underneath and cut the net.
I made a few calls and it soon became news. I had to sit down and have a brew, chill out and get myself in the right frame of mind to deal with the fish safely. My brother arrived first and he was just as happy as I was. People gathered in the swim and it was nearly time to get the fish sorted.
We did the small common first, which went 23lb. I didn't really get time to appreciate just how special that fish was, with the ultimate prize to follow. We set out as many mats as we could ready for her. Plenty of water was on hand and experienced goalies were all at the ready.
(Scott taking the best in the land, the Burghfield Common)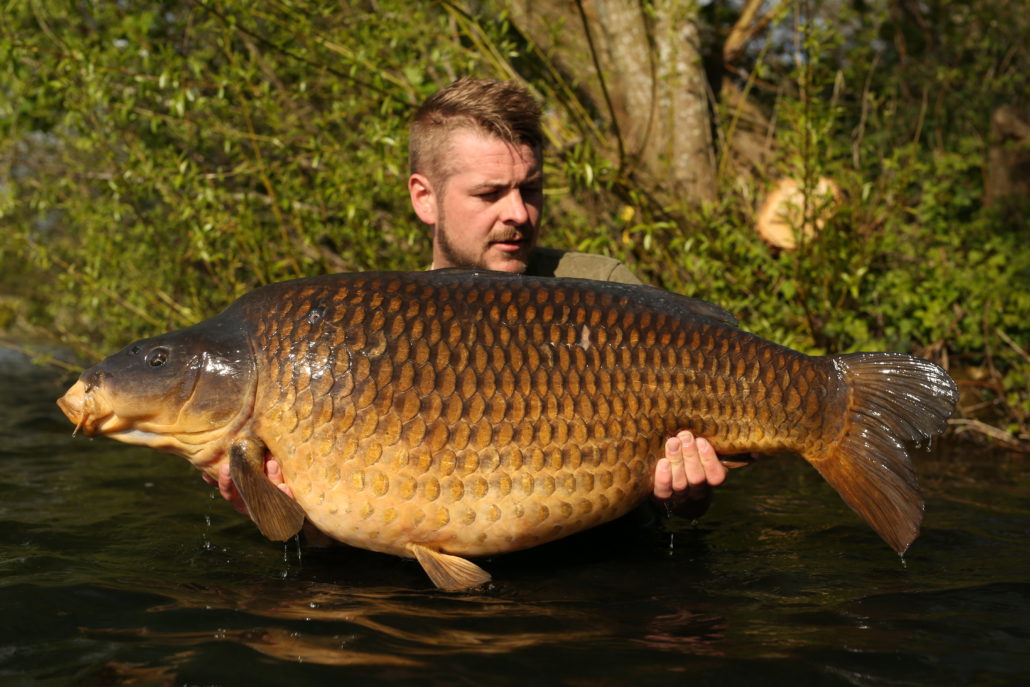 We got her out and she was big and felt so heavy. We decided to do the pictures first before weighing her. She was totally immense, a truly special creature that's for sure. After the photo's, we weighed her up. I wasn't looking at the dial, but I heard Baz say that she was over 60! In the end, she weighed 62lb 8oz, absolutely mental!
We got in the water for some few returner shots and what a feeling. Dan filmed it all for Sticky's film this year and I can't wait to see the footage back. As she went back, it dawned on me that I had done it. The UK's most desired carp was in my album and all those dreams growing up were now a reality. Man I love carp fishing.
(Scott getting the job done!)