New Guns from the 2019 SHOT Show
Here are some new personal protection ideas from historic gunmakers.
Here are some new personal protection ideas from historic gunmakers.
________
For anyone who likes Shooting, Hunting, the Outdoors, and Tactical training, SHOT Show is a big influence. Even more so if you like guns, though apparently the organizers couldn't figure out how to work that into the event's clever name. The big show starts today in Las Vegas, where more than 1,000 exhibitors will converge with dealers, the media and other firearm insiders from around the globe. At every turn will be the new tools, tech and toys that could potentially improve our odds of protecting life and property, scoring higher at the range and bringing home the wild game we pursue. SHOT is where shopkeepers decide what goes on their shelves and where magazine editors, TV presenters and bloggers decide what they'll be covering.

The latter starts today, right here. Throughout the show americas1stfreedom.org will offer up daily dispatches of the guns and gear that impress us most, stuff that combines innovation, performance and value. That'll require a lot of looking, as the organizers figure anyone determined to visit every booth during the four-day event will have about six seconds to spend at each one. So trust us to be highly selective and not to waste your time. This is where you can find the good stuff.

While not everyone can attend SHOT, it is nonetheless an important link in the free-enterprise chain that helps ensure our freedom to keep and bear arms. Without ready access to firearms and ammunition, our God-given rights would be seriously infringed. And if attending a gathering like this one sounds compelling, the NRA has you covered on that score, as well. Both the NRA Annual Meetings & Exhibits (Apr. 26-28 in Indianapolis) and the Great American Outdoor Show (Feb. 2-10 in Harrisburg, Pa.), are open to all members and offer huge exhibit areas including many of the guns and gear being introduced at SHOT Show.

Here are some new personal protection ideas from historic gunmakers.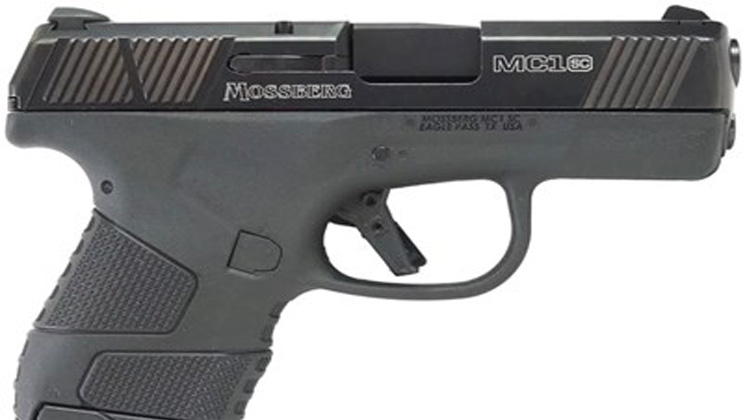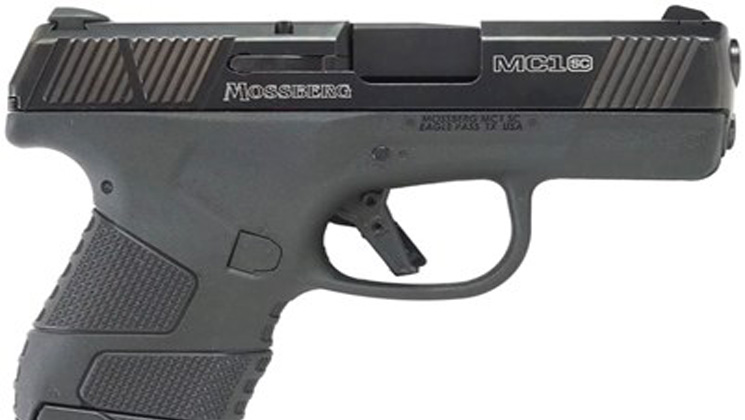 Mossberg MC1sc—A century since Mossberg opened its doors with the .22 Brownie pocket pistol, the company best known for shotguns and rimfire rifles is back in the handgun business. The MC1sc 9 mm subcompact measures just under 6½ inches long while weighing in at a smart 19 ounces (unloaded), that keeps recoil moderate. It boasts a slew of features vital in a modern carry gun: stainless-steel slide that rides smoothly on a rugged polymer frame; excellent sights that come in a white/3-dot configuration, or they can be upgraded via a pair of factory options, TRUGLO Tritium or Viridian E-Series red laser. The gun comes with two single-stack magazines, one a flush-fit 6-rounder, plus an extended version holding 7 rounds. The magazines are molded from a low-friction/high-durability transparent compound that allows owners to see exactly how many rounds are loaded. And because of an ingenious takedown system that doesn't involve pulling the trigger, the MC1sc can be disassembled for cleaning safely and easily.

How did it shoot? Darned well, thanks in part to a grip angled similar to a 1911's, with texturing in all the right places and an added palm swell. With the 7-shot mag, it fit my hand as well as any subcompact ever, perhaps better. The Mossberg's flat trigger blade, bearing an integral safety, connected me to short pull that broke around five pounds with little overtravel and a positive reset. Whether shooting deliberately, in double-taps or an extended string, I had just one miss on the 6-inch plates, better than my norm with a brand-new pistol.  Starting at $421 MSRP for the standard model and including a Centennial Limited Edition of 1,000 24K-gold-accented units priced t $686 MSRP, this is an impressive comeback bound to appeal to newcomers, veteran shooters and collectors alike.
A century since Mossberg opened its doors with the .22 Brownie pocket pistol, the company best known for shotguns and rimfire rifles is back in the handgun business.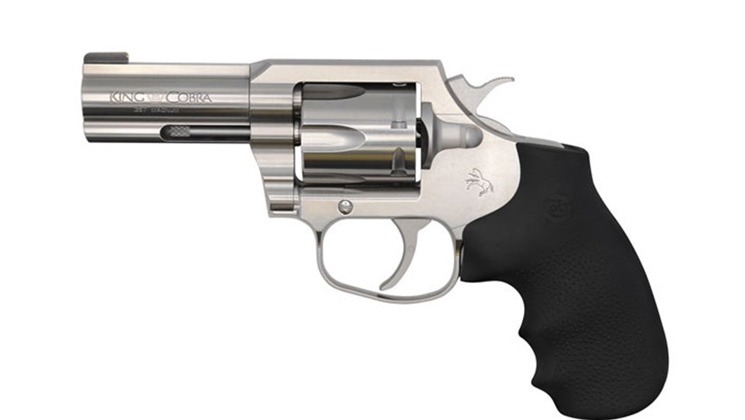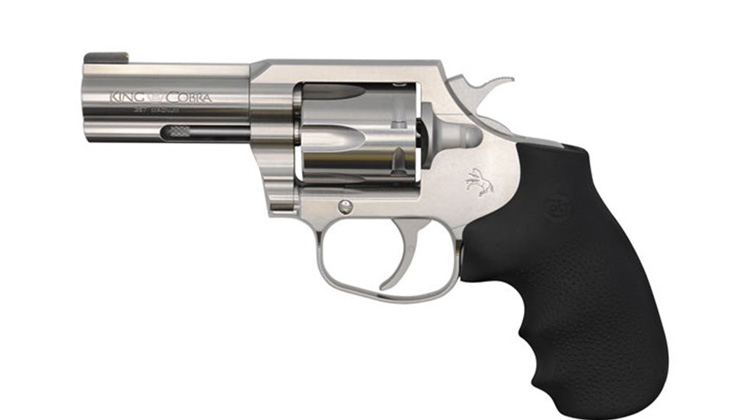 Colt King Cobra—Another resurrected "snake gun" from the company that invented the revolver brings a welcome evolution for devotees of the potent .357 Mag. chambering. Following the successful 2017 relaunch of the .38 Spl. Cobra, Colt is back with a more powerful version. The new-generation Cobras pair a heavy-duty stainless steel frame with a six-round cylinder that tops the five-round capacity from competitors. However the new King (not to be confused with the original King Cobra from the 1980s-90s) is equipped with a full-underlug, 3-inch barrel that recalls the rare Combat Python. An enlarged trigger guard improves the new model, and so does the interchangeable brass-bead front sight.

Colt's Justin Baldini invited me to give it a try at SHOT's Media Day at the Range event, adding that it was the company's first new .357 revolver in about 20 years. And doing so was a revelation. It wasn't the sharp kicker I expected, but rather a fully compatible shooter, truly a bit hard to believe given the magnum caliber. Later I learned that was due in part to Colt's innovative Linear Leaf spring trigger that creates an inline hammer pivot, and in part the gun's Hogue Overmolded rubber grip with finger grooves that all but guarantee full hand engagement. In both single- and double-action modes, it had me hitting plates right away.

Unloaded the King Cobra weighs 28 ounces, so it's a little heavy as today's carry guns go. Nonetheless it's very concealable, and so if one favors .357 firepower and a revolver's fail-safe reliability, here's one ready for duty, at an MSRP of $899.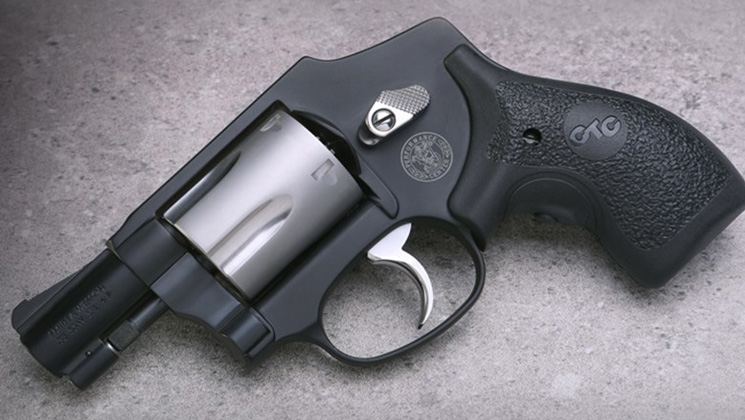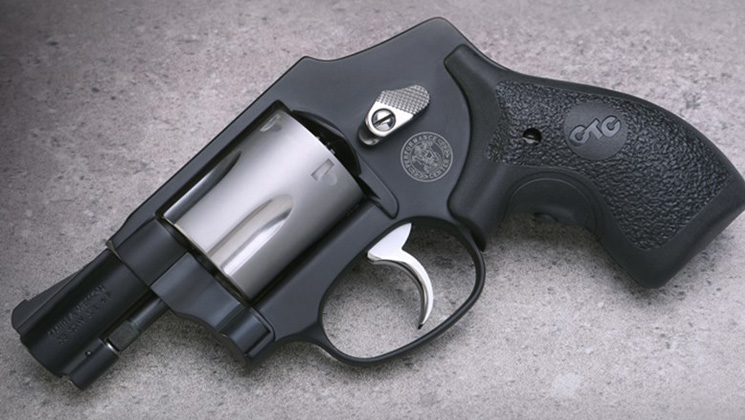 Smith & Wesson Performance Center Model 442—Compact J-frame revolvers have proven to be reliable personal-security handguns for a half-century, and so this latest iteration from the vaunted S&W Performance Center seeks to build on that proud track record.

At heart the Model 442 is an aluminum frame/stainless cylinder, double-action-only in .38 S&W Spl.+P. The five-round cylinder here is just one of the custom-polished parts (also the thumbpiece, trigger, etc.), and its action is tuned like clockwork by the Center's master pistolsmiths. The standard groove-and-blade sights are augmented with factory-installed Crimson Trace LG-105 Lasergrips. Boasting a clean-breaking trigger, measuring just 6.3 inches long and weighing a scant 15 ozs., the handsome, two-toned snubbie is a natural concealed-carry candidate, and there's no hammer spur to catch on clothing. MSRP is $742. For more, visit the Smith & Wesson website.
Source:
https://www.americas1stfreedom.org/articles/2019/1/22/new-guns-from-the-2019-shot-show/