How To Choose The Right Ammunition For Your Firearm
Are you a new gun owner who is trying to figure out the right ammunition for your gun?
Well, this article will help you do just that.
Are you a new gun owner who is trying to figure out the right ammunition for your gun?
Well, this article will help you do just that.
____________________

How to Choose the Right Ammunition for your Firearm Based on your Purpose
Not only is it important to know the size of ammunition you need, but it is also important to consider the use you have intended for the bullets that you are picking out.
After reading this article you will know how to choose the right ammunition for your firearm based on the purpose you have in mind. So go on!!
Bullet Size or Caliber
Before getting into picking out a bullet by purpose it is important that you get the right caliber for your gun.
For guns, "caliber" means the diameter of the barrel and thus the diameter of the bullet that is going through it.  Also for terminology sake, "bullet" just means the metal projectile, while the entire thing is called a cartridge.
When you purchased your firearm you probably went over this with the person you were buying the gun from. There are a lot of different common sizes and each one is better for certain things than others.
.22LR- Small round for long riffles or pistols. These can kill and be

used for defense

, but they aren't much above pellet guns. These are great for learning however because they have little kick and recoil. They are also cheap.

9mm- There are a few rounds between the 22LR and the 9mm, but they are not as common and actually the same size as the 9mm, but just have different counts of gun powder in them. The 9mm is great for the range or self defense. They have enough power to penetrate well as close range, but still easy to fire with little recoil.

.38 Special- Again skipping a few to get to this one. This bullet is bigger and has more power behind it than a 9mm. Getting to this size you start to get more recoil This is especially true if you are using this in a smaller gun. The 38 special is mainly seen in revolvers. Also, the same size is the .357 magnum, but it is longer, so be sure to use it in a gun designed for it.

.223 and .308 – These are starting to get into rifle rounds. These are seen in assault rifles and are great fun at the range. They also can be used for defense, but the guns firing these are bigger which makes sense since the bullet is larger.

12 Gauge – This is a shotgun round and is the most common type. Their is also 20 gauge which is smaller and 10 gauge which is bigger. Shotgun rounds are used primarily for hunting.



Just remember to pick the right size bullet for your gun. The caliber is how big the diameter of the bullet is and it will match up with the barrel of your firearm. Just remember bigger bullets have more power and also cost more.
Firearm Purpose
People generally have three main purposes for their firearm when it comes time to purchase ammunition.

You probably want to practice with it, go hunting with it, or use it for self defense. Depending on your purpose it will dictate some of the futures you look for when buying ammo.
Target Practice Ammo


Type of ammo for shooting practice
If you are just going for target practice or training, then you DON'T need the most powerful bullets.
Instead you want to focus on cost of each round. You don't want to spend a lot on rounds when just shooting them for fun. For rifles and handguns you probably want to look at FMJ cartridges and bullets.

FMJ rounds are made with soft lead in the middle and this is surrounded with a metal shell. They are easy to make and thus they are cheap.
If you are shooting a shotgun, then you probably want to look into lightweight target loads. They generally are 7.5 shot or smaller. The pellets on the inside of the shell are normally lead unless you live in an area that requires steel shot.
Outside of cost of ammunition you also want to consider the recoil when picking out rounds for target practice. If you are shooting all day, then your arm will get tired fast if the gun has a lot of recoil. You should probably look for small-bore rim fire ammunition and avoid magnum rounds.
Using Ammo For Defense
If you are buying ammunition for defense, then cost is a factor, but you really want to make sure you get a round that will stop the threat as quickly as possible.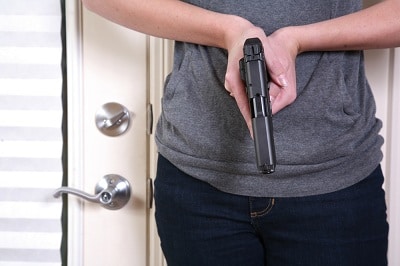 Type of ammo for home defense
You want a round that will fire reliable and also come out with a lot of force.
A good type of rounds to use are hollow points. These bullets are designed to expand on contact making a larger hole in what they hit.
This is done by having a empty cavity in the tip of the bullet. Not only does this make a larger wound though, it also helps with penetration and keeping the bullet in the target so no one else gets hurt.
When using a shotgun you should use buckshot rounds. The pellets are large enough to do good damage. The key when picking out rounds for self defense though is finding ones that transfer all the energy into the target and also penetrates the target so no unintended person gets hurt.
You also want a reliable round to end the situation quickly.
What type of Ammo does Hunter use for Hunting?
For hunting you pretty much want to consider all the same factors as with self defense.



via m01229
You want a bullet that will expand and produce enough damage to the animal that it will kill it quickly and humanly. That is why if hunting with a shotgun you want to use slugs.
You should NEVER use an FMJ bullet for hunting as it won't kill the animal and it will most likely go straight through.
The difference between ammunition for hunting and defense is you need more penetration for hunting since most hunted animals are larger than humans. For hunting more power is better.
This means picking out ammunition that produces a lot of force.
This normally means going with a larger caliber bullet.
This is something to keep in mind when purchasing a rifle or handgun if your main intention is hunting you should get something larger up front.
Conclusion
So now that you have finished reading this article you should be able to choose the right ammunition for your firearm depending on your purpose.
The two factors to consider when picking out ammunition is caliber of the bullet and also your use for the firearm.
If you are hunting, then you need to get a larger caliber gun.
If you are using it for self defense, then you want reliable rounds that will cause enough damage to end the situation quickly.
If you are just target practicing, then you can go with cheaper FMJ rounds in the caliber for your gun.
Even though there are a lot of different types of bullets there is really only a few uses for them, so you should be able to figure out the right firearm for you now and the right rounds for it.
Source:
https://www.dailyshooting.com/how-to-choose-the-right-ammunition-for-your-firearm/